Man with a Plan
The life, death, and resurrection of a football player's dream.

POTENTIAL

Imagine you're a nineteen-year-old football player spending a year at Hargrave Military Academy before heading on to college. Your rural high school was a single-A entity that got little to no attention even in its own home state of Virginia. Your fellow graduates, for the most part, are still hanging around the hometown with no idea what they want to do with their lives. Some will slip into cabs of farm equipment and others will bounce around between local businesses cashiering or stocking shelves, never leaving the county.

But you have a Plan. You've had one since Pop Warner football when other kids were either a step slower or couldn't pull you to the ground once they caught you. On Saturdays of your pre-teen youth, you'd play Little League baseball games then beg your dad to drive you home immediately afterward so you could watch college football while Keith Jackson spouted stats and Brent Musburger announced touchdowns while they were still ten yards outside the endzone. Once the afternoon game wrapped up, you'd run outside to mimic the latest plays by Barry Sanders, Rocket Ismail, and Kordell Stewart. Mimicry morphed into mastery and soon you were the one putting on a show, compiling highlight-reel footage for others to gawk at.

It is the fall of 1996 and this is what life is like for Wayne Briggs. He is a freight train of a running back who can already bench 400 pounds. During his senior year of high school, he not only plowed through rivals for over 2,300 yards and 40 touchdowns, he also played defense, amassing more than 50 tackles and five sacks. On the recruiting trail, he is a wanted man. Letters from college coaches stack up on his dining room table and his telephone rings most nights that regulations allow.

Imagine what that must feel like, the endless reel of possibilities spooling out before you. You can do anything. You can go anywhere. Life is good.

Flash forward fifteen years.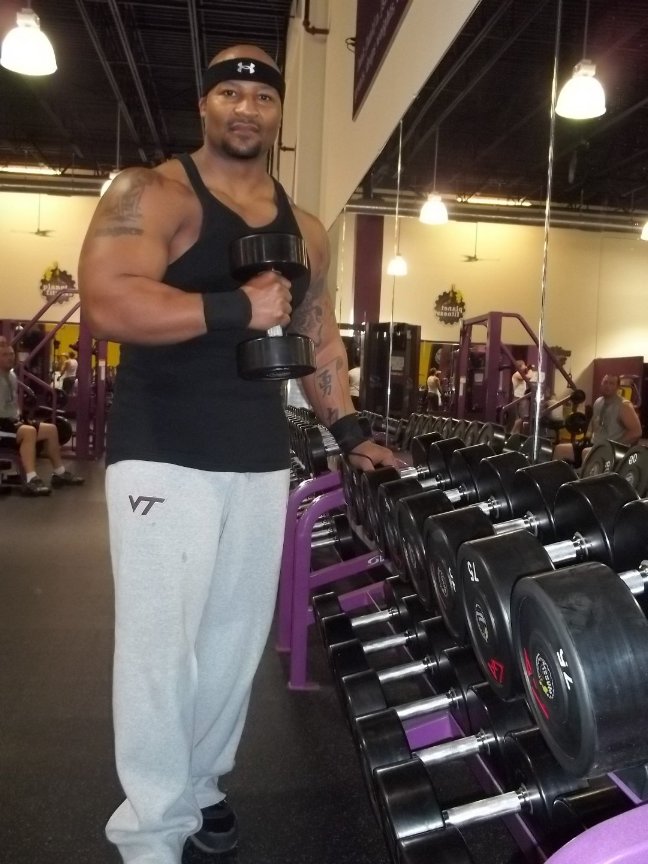 Wayne Briggs: Man of Steel

POWER

Wayne has just finished three miles on the treadmill. He still bears the muscular form of his playing days: a v-shaped torso that culminates in cinderblock shoulders. His shaved head gleams as he heads to the squat machine and slides a couple of the gym's heaviest plates on each side of the bar. It holds more than his weight, but you'd never know it from the ease with which he pulls it up to his chest and lowers it to knee-height. Again and again and again. He's a workout machine, always has been. As a Virginia Tech football player, he squatted over 600 pounds and set the push-jerk record —401 pounds—for all positions. It took a beefy lineman, All-American Jake Grove, to finally topple that impressive mark.

As he lifts the bar through a second set of reps, grapefruit-sized pecs threaten to rip his ribbed tank top. Tattooed superheroes—Superman, the Incredible Hulk, and even Wonder Woman—seem to leap off his left arm, each striking out at unseen foes. On his right biceps, an inked pit bull sits quietly, menacingly. With his physique and markings, you would expect him to be an intimidating figure. And he would be if not for his expression. He's smiling, always smiling, even while hoisting the weight of a lawn tractor.

"Discipline and hard work had always been my M.O.," he says, his voice a rich baritone. "My dad was a farmer and worked in the shipyard, and I saw how he worked hard. Just because I'm not playing football anymore, doesn't mean I can't keep leading a healthy life and still stay in some kind of shape."

These days Wayne is a P.E. teacher at Dare Elementary in Yorktown. For a while he also coached running backs and linebackers for the Mencheville High School team, sharing his wisdom and even shepherding one of his players, Shawne Alston, into the ranks of Division I football as a running back at West Virginia University. But then he traded in his whistle for the double brake pedals of a drivers' ed. car. Now he teaches kids to avoid collisions instead of causing them. Even so, kids in his classes always come to him with the same questions. What was it like, they want to know. What it was like to play big-time college football?

"College football is great but you've seen those NCAA commercials about so many hundreds of thousands of athletes and how most of them are going to work at something other than their sport? It's all true. We've all got dreams, we all want to make it to the NFL, but in reality everybody's not going. You come in with a class of 25 people and maybe 4 or 5 of you will get drafted; and maybe 2 of you will play a couple of years in the NFL. Uh uh. Every time I speak to kids, I talk to them about education, schoolwork, graduation."

Wayne loves the memorabilia from his playing days: the jerseys with his number, walnut-sized bowl rings for every finger, a bobblehead Coach Beamer doll, and a "Mr. Electric" edition of Sports Illustrated signed by Michael Vick. But the rings are stashed away in a safe while his undergrad and graduate diplomas hangs proudly on his wall at home. And as for his fondest memories of football, they are not so much of playing the game he loved, but of the camaraderie of teammates.

"Going to war with guys that you shared blood, sweat, and tears with," he says, "just all the fun stuff, the joking and the laughing, all those kinds of things that guys do. Just being around good friends and guys that you can depend on. Getting older, you look back and appreciate what you had. You just don't know it at the time. Those were fun times, you know."

But the fun times didn't start out that way.


PAIN

When it happened, the pain was more mental and spiritual than physical. One moment, Wayne was the embodiment of the tattoos on his shoulder, an unstoppable force. Then, a loud pop like a baby carrot being snapped in half, and he fell to the turf, Superman reduced to mere mortal.

Anyone who has ever experienced a torn ACL knows it's not a painful injury, not like breaking a bone or even sustaining a bruise. When supportive ligaments tear, your knees lose lateral capability and every so often the ground seems to slip out from under your feet. It's as if you were coming down a flight of stairs and thought you'd reached the bottom but there was actually one more step to go. You press down with your foot and there's nothing there, no step, no ground, nothing. You're dangling, dangling, dangling. And then you fall.

The simple act of walking now takes concentration. It's frustrating, losing control of your body, tougher still when you're an athlete whose body is a valuable commodity, and you're forced to sit by as the season rolls on without you and your stock value plummets.

"That was like the 4th game of the season," Wayne recalls. "Before my knee was ripped, I was getting a lot of attention—high, heavy interest. I think sooner or later someone [from a big program] would've pulled the trigger. But they backed off after I tore my ACL."

Kent State and Ohio University thought highly enough of his potential to offer him scholarships, but Bowl-Alliance schools weren't willing to take the chance. Virginia Tech was interested, but not enough to give him a full ride. Not yet. Instead, he was given the opportunity to come to Blacksburg as an "invited walk-on."

Walking on was not part of Wayne's Plan. But Tech was a scrappy up-and-comer. He liked what they were about: a lunch-pail work ethic and never-say-die attitude that matched his own. He'd seen them as underdogs conquering the storied Texas Longhorns in the previous year's Sugar Bowl and come within of quarter of doing the same to the Nebraska Cornhuskers the following year in the Orange. And Coach Frank Beamer was aiming higher yet, believing his team could make it all the way to the Mythical National Championship.

It might not be the way he had written his script, but Wayne was excited about the opportunity and challenge that lay ahead. He accepted the offer and began the arduous work of rehabilitating his shredded knee. A task that would take him deep into his first season as a Hokie, preventing him from practicing with the team until November. Even so, he got to travel with the team to the '98 Gator Bowl vs. North Carolina. "Hey," he explains, flashing his trademark smile, "that was just Beamer being Beamer."


PERSEVERANCE

A kind gesture from the head coach carries a lot of weight, but former stars who were used to having their egos stroked usually need more than that to continue performing outside the spotlight. Wayne shakes his head gravely as he recalls his early days at Tech. "As a walk-on, you've definitely got to prove your worth. If you give it your heart and soul and you just keep getting banged around the whole time, it'd be easy to just give it up and say, 'Hey, this ain't for me. I'm done. I just can't do it.' But for me, it wasn't like that. I just wanted to at least make the practice squad or travel squad or contribute to the program. I knew I could. But even then, if you're on the travel squad, the practice squad for two or three years, you can easily become discouraged. I just never let that happen. I felt like I had all of [my hometown] Windsor backing me, and all of Isle of Wight County backing me, and I felt like I'd be letting them down if I didn't stick with it."

Just as he did as a child, he was pretending to be other football players, practicing the art of mimicry. And, just as then, it made him a better player. "It's not just that you're running the offense of another team," he says, "not only that, but you're learning, believe it or not. And maybe you can bust a couple of plays on Bud Foster's defense. And he can go back and say, 'Hey, this Wayne Briggs guy, I think this guy might really help you guys out in the future.' The offensive coaches are on the flip side of the field, but when they go back in their meeting rooms, the coaches talk. And Coach Beamer always acknowledges it. It's not just one of those things where you play on the practice squad and you're just meat. There's always an opportunity for you there. If you prove yourself, they're going to find a spot for you."

The coaches did notice, and after two years Wayne was put on scholarship. Proving himself in spring scrimmages, he gained his first real playing time on the kickoff return team. "If it's running down for special teams, hey it's a beginning." Then he finally earned playing time on offense. And, just as before, it didn't follow the original Plan.


POSITIONS

All the players who make it onto a Division I football roster were stars in high school. Most of them played both ways. They touched the ball often and scored a high percentage of the time the ball was in their hands. But when you gather all these stars together onto one team, there's not enough glitter to make them all shine. There's only one ball to be carried, thrown, or caught, which means elite athletes who scored double digits every game of their high school careers now find themselves switching to less glamorous positions just to get out on the field.

"I used to always want to play tailback," Wayne says. "I liked to run the ball more than anything, but once I got there with the likes of Shyrone Stith and [Ken] Oxendine, the easiest route for me to playing time was to go the fullback route. I had the size, I was a little bit bigger and fullbacks were used a lot then. Marcus Parker was there at the time, and he kind of took me under his wing and showed me the ropes. Very good guy. I'll never forget that guy. I tried to model myself after him. Ken too, both of those guys, they kind of showed me the ropes."

"It definitely was an eye-opening experience for me. You've got to be a lot tougher as a fullback. At first I thought, 'Man, I don't know if I want to be doing all this, going up in here and butting heads with linebackers.' It was definitely an adjustment because in high school you don't have to block as much as you do in college. And at Tech, you really have to be on point. The schemes you learn on the college level are much more complicated."

As a fullback, Wayne seldom got a chance to carry the ball. Throughout his Tech career he got eight rushes for a total of 17 yards. His biggest gain was a 17-yard pass play against Rutgers his redshirt-junior year. As much as he missed carrying the ball in for six points, perhaps the thing he missed most was being able to dance around defenders instead of always being a human battering ram.

"It hurts!" he says with a laugh. "You're sore. But you don't really feel it during the game. You feel it after the game. Even practice wears you down, not just the games. Really, to be honest with you, it's just one of those things that you're young and dumb and you don't think much about it and you get over it. You get in the ice tub and put some ice on. You try not to stay in that trainer's facility too much getting rehabbed. I didn't personally want to have to wake up at 6 o'clock in the morning just to go over there and get some treatment. So you definitely wake up sore, but I'd say it's the same for any position. You're going to wake up sore. Even if you're a corner, it doesn't matter; you're going to feel some aches and pains. It's just one of those things that comes with the territory."


POISE

Wayne came into the Hokies program as an optimistic, unflappable player with a blue-collar work ethic, attributes that served him well as a student. College, in his mind, was a job. He had a workload, a class schedule, grade requirements. He also had his position meetings and required study hall.

"Football made me," Wayne says. "I don't know where I would be as a person if I didn't have football in my life. It just affects you a lot. It makes you respect people and things. It made me appreciate life and a lot of things that have come along since football. I've traveled around the country. Most people from my area marry their high school sweetheart and…they just go to work and have kids and that's their life; that's it. So by having football in my life—and not just because of Virginia Tech, but football period, from being a little kid on through—it made me have a goal. And to reach goals, I had to be structured, I had to be disciplined."

He also learned, more than most, how to keep his head up when goals weren't reached. It's helped him relate to others when they've been hurting. "I have a buddy today that I talk to all the time," he says, "Ricky Hall. He was my roommate in college and he dropped that pass that could've gone for a touchdown against Temple in '98; it's just one of those things. Things happen in football. …Everybody wants to win, I understand that. But, you know, sometimes you have those days where we don't win or we don't have a good performance. It just comes with football. After the game, you may mourn a little bit and get down. But come Sunday, it's time to shake off the negative afterthoughts. You go on with your life, get back out there, and get back to business. That's just how it is. Our coaches definitely kept us in line when it came to that. Yeah, it would hurt if we lost a game, but you just forget those negative afterthoughts and you go on with it. That's all you can do. You've just got to keep going forward, take it in stride, move on to the next game."


PAYOFF

Wayne grew up a fan of the Hurricanes as they racked up championships throughout the 80s, so playing Miami held special importance to him. He marveled at the stadium on his trips to the Orange Bowl, seeing the names and titles emblazoned on the stadium. Beating the Canes was cause for celebration. Wayne did a lot of celebrating at Tech.

The first live game where he ran out of Lane's tunnel, he was so amped he could barely contain himself. This was in the days before Enter Sandman, but the crowd was still hollering, whistling, and stamping. Jumping up and touching the Hokie Stone just before entering the field, he got his first taste of the big time. "Good memories," he says, then quickly appends, "great memories. We've got some of the best fans if not the best fans in college football. I tell you what: I wouldn't want to play a game in Lane Stadium if I was on the opposing team."

His first year on full scholarship was a magical one. Not only was he playing big-time football, his team was mowing down opponents and headed for its first undefeated season of the modern era. As he recounts the night Vick threw his long bombs to Andre Davis and everyone knew they were going to the National Championship, his face looks like a kid's whose just unwrapped the birthday gift he thought he'd never receive. "All the fans started throwing sugar cubes. It was like it was snowing down on the field. And then the goalposts being taken down to Big Al's. There was nothing like that. That moment right there, I'll never forget it."

His Plan had taken a few detours, but he was headed to college football's biggest stage of all. "Man, it was crazy! I just couldn't believe it. Being able to run out of the tunnel in the National Championship Game, and then you look around and see Lynn Swann, Brent Musburger, and Keith Jackson on the sideline as you're practicing. Lynn Swann let us put on his old Steelers 70's Super Bowl Ring. Things like that, those moments don't come around very often. I definitely won't forget. Would've been better had we won the game, but…" Here he trails off with the good-natured laugh of a man whose glass is always half-full.


PRESENTLY

Wayne never made an All-Big East squad. He never became the player that fans sit around talking about in their favorite sports bar. But he was the type of player that Tech couldn't succeed without, an integral and seldom heralded cog in the machine. Except for his Herculean physique, he seems like an Average Joe with average wants and needs. He spends his pre-dawn hours in the gym. After school or on weekends, he heads out to the golf course, a habit he picked up from Oxendine. His average round is 90, but he once made it to the clubhouse after shooting 83. Occasionally he'll go bowling or shoot some pool or just kick back and watch a movie at home. Traveling is something he hopes to do in the near future. He recently got his first passport so he and his new bride, Jaime, could honeymoon in the Bahamas. He'd love to visit Central America and Europe, add their stamps in his passport next to the Bahamian one.

His most frequent trips, though, are to Blacksburg to take in a game, a journey he makes once or twice every year. He tries to go back on a Friday so he can watch a practice and hang out with Coach Hite a little bit. But on Saturdays, he's just another fan. Sure, he still fits into his player's jerseys, but he doesn't wear them in public. "No, no, no," he says, "I'm not one of those guys."

Instead, he's one of those guys grilling up dogs in the parking lot next to you, throwing beanbags at a cornhole board. Humble in a way that embodies the best of us, he's what each of us should strive to be. He's a man with a Plan, albeit, a flexible one, one that bends with life's hardships.

"I wouldn't change anything that happened to me," he says. "If I would've gone to Kent State, yeah, I might have played a little bit more. Whatever. But who's to say that would've happened? I just wanted to play big-time football. And I did. I don't have any regrets."