Finalist for the 2021 Library of Virginia Book Award


Purchase directly from Author

Purchase from Main Street Rag Press

About the Author

Events & Readings

Send Bill a message

Bill's Home Page


SAMPLES

Alternate History"
published in The Sun

Higher Math"
published by One

Junking"
published in Bottom Shelf Whiskey

IN THE NEWS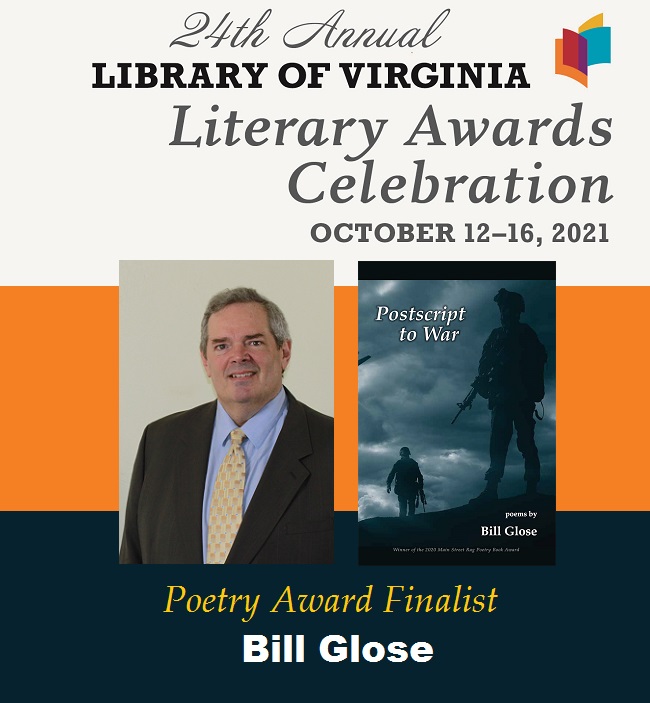 The UnCommonwealth (Library of Virginia blog)

Video of 2021 Library of Virginia Poetry Finalist Panel

Rattlecast #128
Featured podcast interview and reading

Poquoson Poet Bill Glose Wins Honor for Military Composition, by Mike Holtzclaw, The Daily Press

Thomas Nelson Community College, an essay on the cathartic power of poetry, published in Narrative Magazine

View a YouTube video of the online book launch of Postscript to War hosted by The Muse Writers Center

View a YouTube video of Veterans' Readings sponsored by Armed Services Arts Partnership


About Postscript to War
---

Uniting his own combat experience with those of other veterans, Bill Glose examines the long-lasting effects of battle and the injuries that are often invisible to the naked eye. The poems in Postscript to War peel away the scab of memory to reveal the raw and tender emotions that lie within.

Award-winning poems in this collection
---

In addition to Postscript to War winning the 2020 Main Street Rag Poetry Book Award and being named a finalist for the 2021 Library of Virginia Book Award for Poetry, the poems in this collection have won numerous individual awards, listed below.

"What the Bomb Wants": 2019 winner of the National Award for Veteran's Poetry given by the Missouri Humanities Council

"Talisman" nominated in 2019 for the Pushcart Prize by Tar River Poetry

"Zeno's Paradox": 2019 winner of the Sarah Lockwood Memorial (Poetry Society of Virginia)

"I.E.D.": Winner of the 2018 Heroes' Voices Poetry Award

"Phases of Erasure" nominated for the Pushcart Prize in 2018 by Rattle

"Amid the Dancing Glee": 2018 winner of the Judah, Sarah, Grace and Tom Memorial (Poetry Society of Virginia)

"Questions Raised by Black Scorpions": 2016 winner of the National Award for Veteran's Poetry given by the Missouri Humanities Council

"P.T.S.D.": Artist's Choice Winner of the Rattle Ekphrastic Challenge (October 2016)

"Anatomy Lesson": 2016 winner of the Nancy Byrd Turner Memorial (Poetry Society of Virginia)




Listen to Bill read "Mouth of Sand"




What others are saying
---

"During a time when many have compared the global struggle to defeat COVID-19 to a war, Bill Glose's book is especially relevant. His "postscript" focuses on what came after his service in the first Iraq War—the painful memories of violence and loss as well as the happy memories of camaraderie among soldiers. His poems also recall the innocence and idealism that precedes wars. These gritty, passionate, well-crafted recollections of war are destined to endure."

Henry W. Hart
Poet Laureate of Virginia (2018-2020), author of Familiar Ghosts, Background Radiation, The Life of Robert Frost: A Critical Biography, and James Dickey: The World as a Lie.

"This powerful collection of poetry by veteran of the first Gulf War, Bill Glose, manages to be violently truthful, harshly hopeful, angry and yet forgiving. Probably only a combat veteran could have written anything with this truth; but only a poet gifted with the ability to find the right images and words could have made the ugly, fearful, heroic truth so beautiful and moving."

David Anthony Sam
former President of Germanna Community College, author of Dark Fathers & Other Poems, Final Inventory, and four other books

"Postscript to war updates and adds to the genre of war literature, as storytelling and as a lyrical account of being a paratrooper in The Gulf War. Through often startling and powerful imagery, Glose evokes a surprising range of emotional tone. In spite of grim honesty, these poems do not acquiesce to gratuitous blood and guts. His language is informed, concise, and sensitive, yet his concerns are humanity's concerns—everything we demand of superlative poetry."
Frederick Wilbur
author of As Pus Floats the Splinter Out.

"Winning a war is glory; fighting the war is gory. Bill lived it and survived to write about it in his powerful style. When he unloads wartime experiences in well-crafted narratives, it brings tears of recall to his eyes, and to his audiences'. In an area that is home to many fine poets, Bill Glose has emerged to be among the best. When you read this, I'm certain you will agree."

Ed Lull
former President of the Poetry Society of Virginia, author of Where Giants Walked, Creating Form Poetry: A Poet's Handbook, and The Sailors: Birth of a Navy